Facility Management
Jaspro Services offers comprehensive facility management services: maintenance, repairs and renovations to buildings and infrastructure on industrial sites.
maintenance of site infrastructure (high pressure mechanical piping systems, fire protection sprinkler systems, plumbing and electrical systems)
building maintenance (exterior siding, roofing, windows and entrance systems)
hazardous materials removal and cleanup
heavy equipment and crane operation services
grounds maintenance (e.g. snow clearing)
Staff Qualifications and Experience
All our facility management staff:
are bonded
trained in safe work practices, especially with regards to industrial and manufacturing environments
have completed a WHMIS certificate program
have completed a Certified Criminal Record Check from the RCMP
are enrolled in Nova Scotia Workman Compensation Board (WCB)
On staff, we have a Red Seal certified Project Lead who has 25 years experience in ship breaking. Other staff include:
Industrial Electrician: 35 years
Electrician Helper/Locksmith: 15 years
Pipe Fitter: 2 years - RS*
Pipe Fitter: 31 years - RS* Bowater
Plumber: 10 years - RS*
Plumber: 30 years - RS*
Mechanic: 25 years - RS* Bowater
Heavy Equipment Operator: 37 years - DOT
Carpenter: 46 years RS* Bowater
Crane Operator: 25 years - RS* Bowater
Crane Operator: 25 years RS*
Labour: 22 years
Note: RS* Denotes Red Seal Certification
---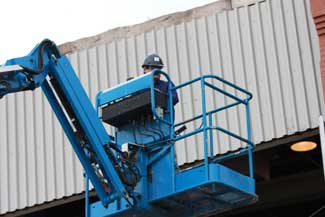 Facility Management Services Tailored to Your Needs
We would be pleased to discuss your specific service requirements, and followup with a proposal for your consideration.
Contact Jaspro at 902.354.8425 or email: admin@jaspro.ca
---
---
902.356.2592 902.354.8425

---

Our Guarantee

---

Free Estimates
Whatever your industrial site maintenance requirements, we can handle the job. Call us today.
---
Our Service Area
We serve clients on the South Shore of Nova Scotia, from Woods Harbour, Shelburne County to Hubbards.
---
Looking for Jaspro Environmental Services?
Find our sister company at: jasproenvironmental.ca